News and events

News Aftermarket
Dinex is proud to introduce our new visual and cutting-edge EPA 10 catalogue for the North American aftermarket! The new EPA 10 program covers 95% of the exhaust systems from turbo to tailpipe.
Exhaust and emission manufacturer Dinex releases a unique OneBox exhaust solution used on Freightliner and Western Star trucks for the American aftermarket including a 3-year warranty. The new patent pending OneBox contains high technology catalysts and particle filters in a quality similar to or better than OE solutions.
Dinex is the first aftermarket supplier to introduce a 3 year warranty to our customers - that is how good our products are!
At Dinex we are taking the aftermarket quality to a higher level to keep the trucks on the road. Commercial vehicles often operate around the clock, and this requires use of quality spare parts.
​​​​​​​As a One-Stop-Supplier we are offering all the exhaust spareparts you need from turbo to tailpipe.
Watch the video with our Global Product Manager for the Aftermarket reveal the new sensor program for the European and North American trucks.
Dinex is proud to announce the official release of a Recon RX DPF Exchange Program for class 6-8 trucks in North America. Check out our video showing how easy it is to do business with Dinex from ordering, handling and mounting the Recon RX Diesel Particle Filter (DPF).
To maintain a high support and service level for our customers we offer several benefits like virtual meetings, webinars, and a 24/7 available webshop. To emphasize our role as a One-Stop-Supplier we will soon introduce a new product range of temperature sensors and reconditioned exchange program.
Our new e-commerce platform has been running from the beginning of the year, and we are truly overwhelmed by the success it already has generated.
While society is largely on hold, food, medicine, and other essentials are still needed on the shelves. Maintaining supply chains remains important, and Dinex is part of this in supply of required truck spare parts.
While the world is adjusting with the COVID-19 situation, Dinex US is falling back on what we do best; Education, training and being there for our customers.​​​​​​​
In regard to the Covid-19 situation, we reach out to you and hope for your understanding that Dinex like most other responsible companies have implemented increased focus on the safety of our employees and customers, by following rules by local governments keeping the employees not direct in production at home as much as possible.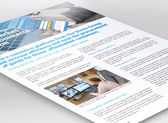 New e-commerce platform from The Dinex Group will increase efficiency and ease the procurement of goods for Dinex' aftermarket customers.
​​​​​​​Doing business with Dinex has never been easier.
Dinex has experienced a fantastic growth for the exhaust business in 2019 according to our strategy. The growth is caused by hard work and a clear strategy to secure the continuously success for us and our customers, and the new 2021-2023 strategy is also settled for the continuously success.
Dinex strives to be the world's leading supplier of exhaust systems and emission technology for the Aftermarket and the OEMs, and being awarded as "Supplier of the Year 2018" at the Temot International Gala in Barcelona, within our core competence area: "Commercial Vehicles", Dinex' focus on Customer Satisfaction pays off.