News and Events

News

2019.05.09, Press Release
Dinex increases sales and doubles profit to over DKK 100m
The wheels of Dinex, the Danish Cleantech Group, are rolling at high speed. And this applies to all the global markets where the 1,400 employees develop, produce and sell exhaust systems with advanced emission technology for trucks, construction and agricultural machines.
The large activity means that for the third consecutive year, Dinex has significantly increased both sales and EBITDA, and the 2018 record profit of over DKK 100m before tax is more than a doubling compared to 2017.
You will, therefore, find a very satisfied management group at the head office in Middelfart.
"The impressive accounts are the result of many things: Tough decisions, ambitious growth plans, focus on innovation and, not least, putting customers first. All, of course, combined with a really excellent effort from our dedicated and competent employees around the world," says Torben Dinesen, CEO at Dinex.
Supplies clean air to the entire world
Dinex's components and complete technology systems supply clean air to leading truck and industrial machine manufacturers in Europe, USA, China, India and Russia, and the demand increases as worldwide environmental regulations increase.
"It is a very complicated chemistry factory, based on great know-how and competencies, that we provide to our customers. Our solutions ensure that their catalysts and filter systems fully meet the growing regulatory requirements, and actually the air that comes out of our EURO 6 system outlet pipes is cleaner than the air you breathe," says Torben Dinesen.
New factory in India
Today, Dinex supplies solutions for truck manufacturers such as Mercedes and MAN in Europe, Kamaz and GAZ in Russia and Dongfeng in China. At the same time, Dinex is underway with a new factory in India, which is being established in response to increasing environmental regulations for diesel and gas engines in the country. These new regulations become effective in 2020 and will be tightened in 2024, and therefore the new Dinex factory is expected to be ready for production in the third quarter of 2019.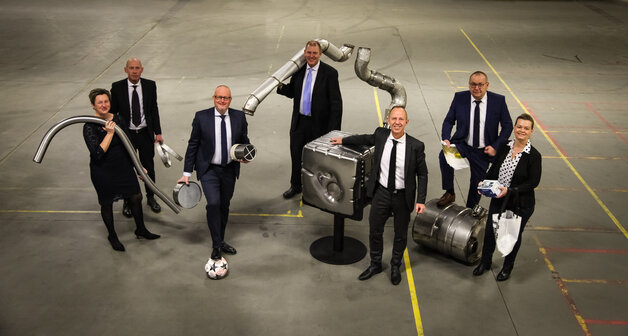 Dinex Executive Committee: from left, Jannie Tholstrup (CFO), Lars Petersen (VP HR), Torben Dinesen (CEO), Thorbjørn Høyer (COO), Lennart Rasmussen (CSO OEM), Per H. Larsen (CSO AEM), and Birgit Thomsen (Director SCM).
"Proximity to customers means a lot to us, and that is precisely why we are establishing a new factory in India. We have an expectation of a turnover at the end of 2024 of approximately DKK 500m in India, and our sales and R&D department are already well underway with the first projects, which typically take three years to develop," says Torben Dinesen.