News and Events

News

2022.03, We did it again!
Dinex Awarded again!
Dinex is "Heavy Duty Supplier of the Year 2021" in the Nexus Community!

​​​​​​​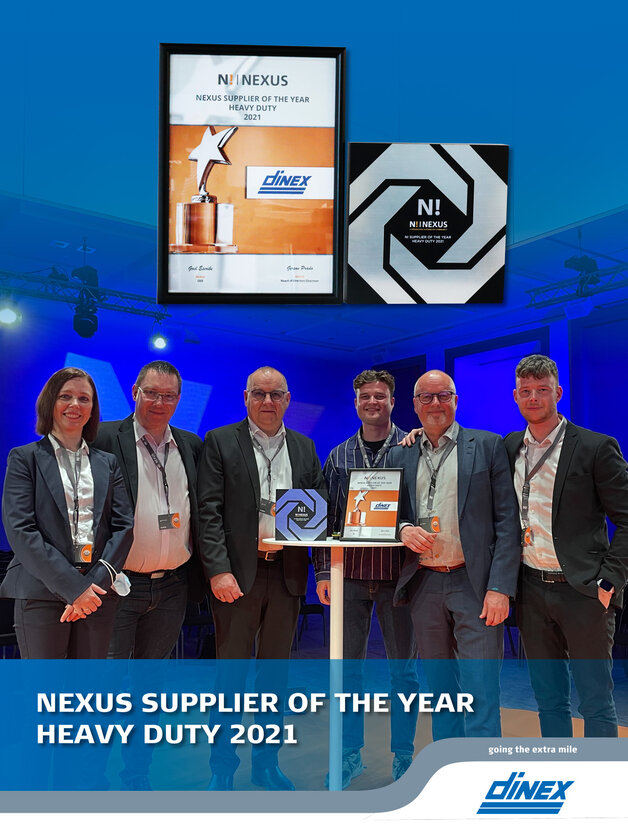 2021 was a big year for the Dinex aftermarket – we experienced big growth on more than 50% and many new projects to optimize the service to our aftermarket customers. Dinex won the Award; "Heavy Duty Supplier of the Year 2021" in competition with more than 75 other suppliers, at a big event in Vienna with more than 500 participants from all over the world. Our CEO Torben Dinesen and CSO Per H. Larsen went on the stage in Vienna to receive the award. This is the third "Top Award" Dinex aftermarket have got over the last 4 years, and this is a fantastic achievement of Dinex Aftermarket Team.
In Torben's speech he thanked the Nexus Community for a fantastic cooperation with a big growth as a result, and Torben also thanked the Dinex team for a great job in promoting Dinex products to the aftermarket industry, Per took also the opportunity to thank the Nexus Business Accelerators all over the world for their support, and finalized his speak with a big thanks to Torben Dinesen for the support during the last years.
Nexus is a community of 159 members/distributors in the automotive aftermarket with a total turnover of 34 billion Euro.
The main reasons for Dinex to achieve the award:
Wherever you run your aftermarket business in the world, Nexus and Dinex is there to support you

Fantastic growth for all members

Local presence in all regions

Web Shop & Digitalization strategy

Innovative and in front with new technology to the aftermarket
We are very honored to receive the award from the big international trading group as Nexus. We have a very good cooperation on all levels with the main purpose: deliver emission exhaust parts of high quality to the Automotive Aftermarket.