News and Events

News

2022.06, Dinex Awarded

Dinex Awarded
"Best E-commerce business Case"
Dinex' E-commerce platform, launched in January 2020, has just been awarded as the "Best e-commerce business case" in Denmark. The reason is the massive success and comprehensive support that the Dinex Webshop has faced from the customers.
Thursday 19th of May Dinex took the first place at the prestigious e-commerce 2022 award show in the category "Best e-commerce business case". Dinex won together with its webpartner Hesehus A/S, in a line-up consisting of some of the most skilled digitalization companies in Denmark.
The impressive award show took place in the Hangar at Clarion Hotel near Copenhagen Airport, and was organized by the Danish Chamber of Commerce (Dansk Erhverv).

"What an incredible journey - in only one and a half year we have converted our online orders from practically nothing to amazing 74 pct. Thank you to all our customers for making this possible", says a very proud Dinex CEO, Torben Dinesen and adds:
"Without our customers there would be no success for e-commerce. They chose to use our webshop every day because of all the cool features that makes their life easier, such as personalized webshop, live events, claim handling, online return system, order/invoice history, available 24/7/365, time saving, warehouse status, gross-/net prices, installation videos, 7 languages and much more".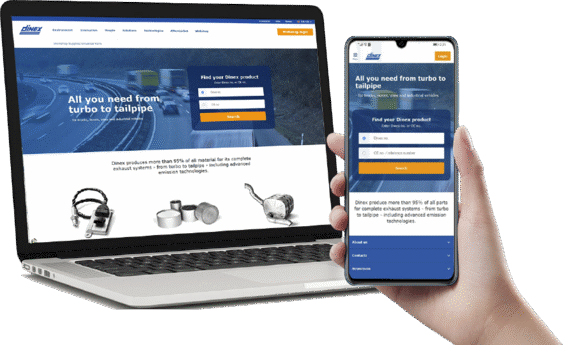 "Together with Hesehus, Dinex has taken online shopping through a B2B auto-sparepart webshop to a new level. Before all this, online trade accounted for less than 1 pct. of turnover, and after only one and a half year it was 74 pct.. At the same time, the visibility in the market has risen significantly and overall sales have increased", explains Stefan Dolleris, Head of E-Commerce, about the reason, why Dinex won the coveted award.

"Hesehus has had a unique approach as a sparring partner for the Management of Dinex, which has had the courage to take a huge leap, backed by thorough research, where customers have really been listened to. Features such as VIN number search and live streaming are based on customers' needs. The trust that has been created all the way around has opened up digitalization for us in a way that has been a game changer for Dinex and given us access to completely new markets and growth opportunities", Stefan Dolleris adds.