News and Events

News

Recognition of your colleagues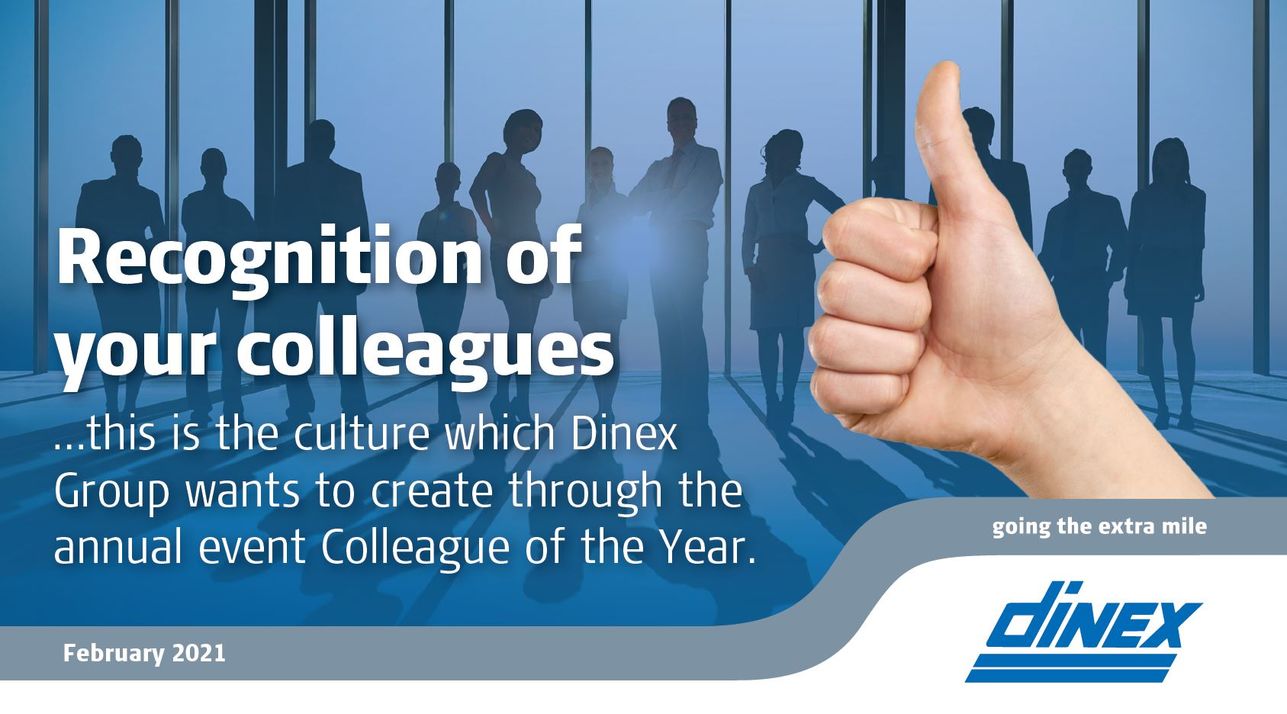 Exceptional colleagues from across Dinex Group have been recognized for making a difference by living the 5 Dinex Values, making the workplace a great place to be, helping, and always being ready to go the extra mile. This is the fifth year that the Dinex Group is running the Colleague of the Year.
Recognition has always been an important part of the Dinex' organization, but to emphasize it even more, an annual peer-to-peer recognition program "Colleague of the year" was started in 2016.

"The intention with the program was to facilitate a culture and a behavior where we recognize our colleagues for their effort and to show that we as a company want to celebrate the employees who go the extra mile, and who is better to see that than the colleagues you are working close with you in your daily day", VP of HR, Lars O. B. Petersen says.

This creates a sense of accomplishment which drives an employee to go that extra mile at work, both for the company but also for one's colleagues, which in turn among many other positive outcomes, enriches company culture, improves work environment, and reduces turnover.
Nominations across different countries & continents
Employees' interest and engagement in nominating the Colleague of the Year increased more than 7 times since 2016 with many more nominations across different countries and continents emphasizing the spirit of "One Dinex" and proving great collaboration among Dinex' employees despite distance and time difference. Inspired by this positive development, the Award Committee decided to announce not only the Colleague of the Year, but also to highlight Honorable Mentions among the nominees.

The 2020 nominations
In 2020, we received 103 nominations from all over the world. Among the nominations, there were four Honorable Nominations which are given to the employees who have been nominated by most colleagues and where the finalist for the title of being Colleague of the Year. All nominees are celebrated in their local companies as this is a great achievement and deserves recognition to be nominated as a colleague who have done an extraordinary job.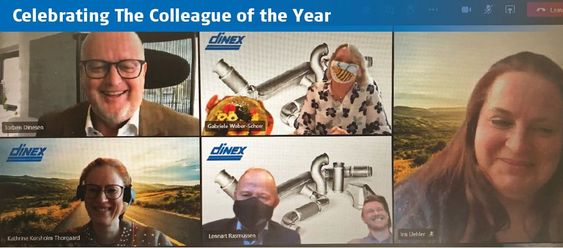 The winner of Colleague of the Year 2020
The Corona-virus outbreak forced the Dinex' entities to rethink their professional and social events, however, this has not stopped us from celebrating the nominees, honorable mentions and of course the Colleague of the Year 2020.
Gabriele Weber-Scherr, a Supply Chain & Group Project Manager at Dinex OEM division based in Dinex Germany was rewarded with the title 2020 as Colleague of the Year. Gabrielle has been working in Dinex since 2007, and she was nominated by her colleagues across Dinex Group for always being open to new ideas, reliable, honest, and spreading a good mood. Gabriele's astounding amount of work to secure warehouse transfer project success, with little customer impact, despite the global pandemic, was one of the many reasons for being nominated.