News and events

News

2021.10, Successful Global Talent program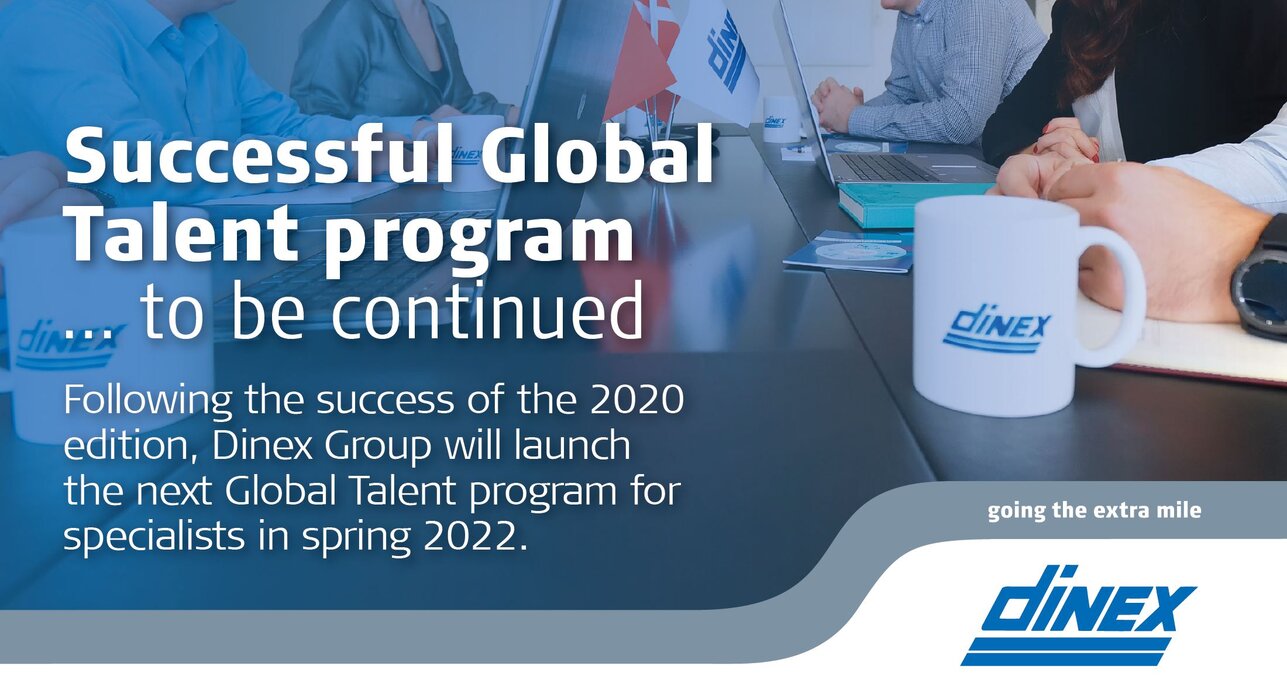 In 2020, Dinex implemented the very first Talent program - despite colossal challenges with the pandemic, which made it impossible to conduct physical meeting activities in connection with the many local talent nominations and later the actual presentations that would reveal - who of the talents could go all the way and become the Group Talent 2020.
"If we had been able to sit down together with the many local management teams around the world, we would probably have had a more in-depth review and thereby an even stronger understanding of the tools we launched last year for the very first time. Tools that support and guide the entire process consisting of many parameters for individual assessment of the nominated colleagues, who, after careful consideration, were proposed for participation in the program by respective management teams around the world"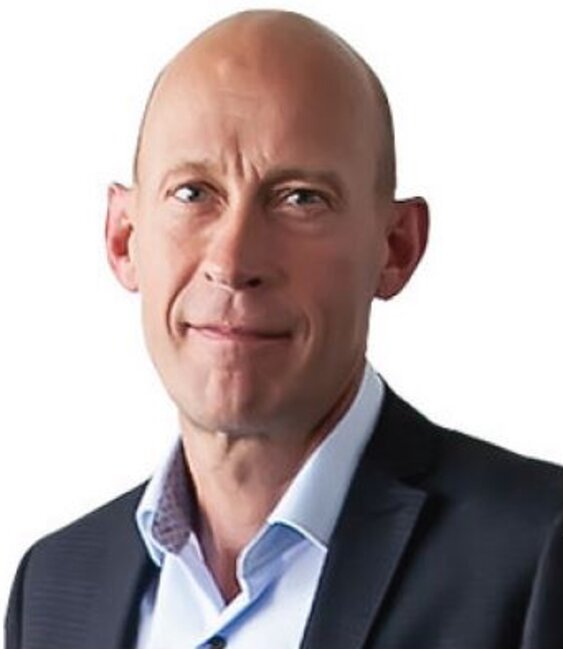 "We would never have been able to complete the program if it was not for the fact that we had experienced a huge interest and a great commitment from our executives." And despite the many challenges along the way, Dinex managed to complete the program to everyone's satisfaction. "We have sown the seeds under challenging conditions, and we are doing it again, acknowledging the fact that it is the only right way of developing potentials and competencies that must be brought into play both in the short term and over a longer period of time," says Lars O. B. Petersen.
Dinex Group has long recognized that the efforts to attract the right competences must be supported by a focused effort for competence development. Like many other companies, Dinex is experiencing an increasing demand for the competences that were previously relatively easy to attract, but which are now undergoing massive competition and are in demand by many other companies - both within automotive industry but also far outside Dinex' direct business area.

As a counterweight to the increasing competition in demand, competence development and talent programs will play an extremely important role in the future.
Talent programs not only unleash potential, but at the same time create a lot of pride...Group Talents 2020 Cansu and Matthias share their experience.
It was an ordinary working day at the office in Dinex Turkey. Cansu Büyükpinar, who at the time worked in the NPI Department as a Process Engineering Supervisor, was busy and was just in the middle of discussing a prototype design with a colleague when her manager Caner Güder stopped by. He asked her to come by his office when she had time later in the day.

When she later stood in Caner's office, he told her that she had been nominated to participate in Dinex's Global Talent program. A nomination which was to be approved by HQ in Denmark and which would therefore invite her to participate in several tests and assessments to uncover her strong potential.
It was quite a big surprise for Cansu that not only her immediate manager, but the entire management team and function heads in Denmark had for a long time talked about her as a possible candidate for the talent program.
Caner emphasized that this was only a nomination for the time and the following weeks would show whether she had the chance to face Dinex's CEO and other representatives from the Executive Top Management Team.
It was during the first lockdown in March/April 2020 when Matthias Geist, Development Catalysis, who is a part of Catalyst & Coating R&D Organization within Technology in Dinex Germany heard a similar message to Cansu's from his manager Thomas Wolff. The exiting news were conveyed online as Matthias was working from his home office because of the pandemic.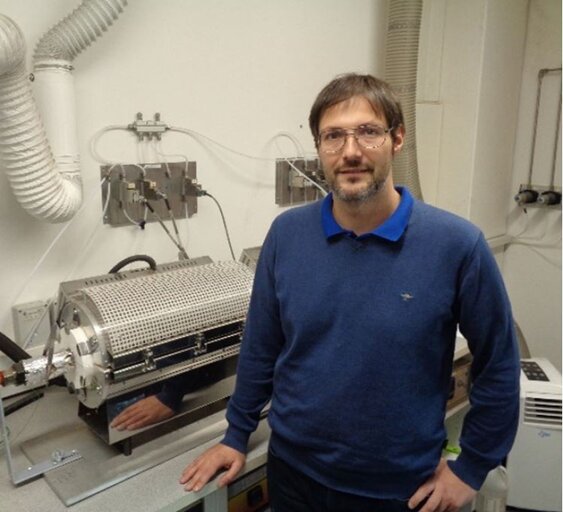 32 colleagues were nominated, but only 7 were selected for the Global Talent program.

What thoughts went through your head when you received the message that you were among the 7 employees in the entire Dinex Group who were finally nominated to participate in the Global Talent program?
"First I was really happy and then really proud", says Cansu, who managed to get through many supplementary tests that HQ in Denmark had presented her with. "Not only proud on my own behalf, but in fact proud that we in Dinex Turkey were represented in the program. All colleagues around me were sweet and together we shared the same pride", continues Cansu.
"I was glad and proud to find out about my participation in the Global Talent program. In general challenges motivate me and I was ready to take this one provided by Dinex.", adds Matthias.
Each of the 7 "talent - sprouts" were assigned a mentor who throughout the process stretching over several months - would support, train, and help build case studies to be presented during the 3 Talent summits.
How did you manage to combine a busy day with also having to participate in the talent program?
"Honestly speaking it was challenging to combine full time work with working on my case study. Nevertheless, I became even better at prioritizing one task at the time and at daily planning.
The ongoing feedback of my mentor was a great support throughout the process", starts Matthias.

"I did it first and foremost because of my mentor, who was also my daily leader, he supported me from the very beginning to the very last day. It has meant everything to me, and I would never have gotten this far if he had not been there for me" adds Cansu and continues - It was mostly about me taking care of my regular work in the NPI Department from 8:00 - 18: 00 and then continue working in the evening on the cases I would later present to the top management in the HQ".
What did you think about having to present your case study to the management?
"I was happy coming so far, but of course I was also a little bit excited", says Matthias.
"In the beginning, I was mostly calm and composed and really only thought about the fact that I fortunately know most of them in advance. But I must admit that up until the day of the presentations, I had quite a lot of butterflies in my stomach", laughs Cansu.
You had to present 3 different case studies during the Global Talent program. In 2 of the presentations you were allowed to use PowerPoint, but in one you were not. How did you feel about it?
"I must admit that the first presentation, which was mostly about presenting my daily local work, was without too much nervousness. I had to use PowerPoint and other systems, which created calm for me during the presentation. However, the second presentation a few weeks later, where I had to pretend to tell about my work in front of a school class - completely without the usual technical reference and aids - there I got really good and thoroughly nervous ", says Cansu and continues - "The very last session was about that I should explain how to share that my efforts in NPI in Turkey could be used in a global context. There I was the least nervous and definitely thought that it went very well compared to the 2 previous presentations".
"The most complicated part for me personaly was communication. How do I communicate my message to the audience that has nothing to do with the science and technology behind my Lotus project? What helped me in this case was my ability to take the learnings and feedback from the previous summit and actually use it in practice. It was a good chance to think outside the box.", explains Matthias.
Went all the way.
It's not a secret that you went all the way in the Global Dinex's Talent program 2020. You were nominated as Global Talents of the Year.
Did you think, during the talent program itself, that you - if you had to go all the way - could benefit from the nomination as part of your career development?
"Definitely yes! It was a great opportunity to show my potential to the management. I was confident that I will develop professionally as well as personally after being nominated for the program, and I was able to prove it by going all the way and becoming one the Group Talents 2020", says Matthias.
"Not really. I was happy with my current job and thought in many ways that Dinex has always been a kind of 2nd university for me. I have been learning something all the time and feel professionally challenged in a positive way. I am super happy for my colleagues and love to meet at work every single day", says Cansu.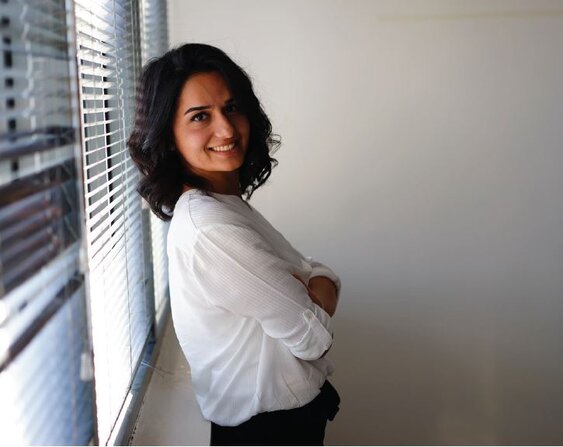 Cansu, Torben Dinesen, CEO & Owner of Dinex Group contacted you a few months ago. What did he want to tell you?

"I was first surprised when he called, it does not happen that often I must say - but soon it became clear that he would ask me to consider a role as global responsible for our knowledge building with a primary focus on all elements of Dinex´s ERP system. Of course, I was honored to receive the offer in person from our CEO and at the same time a little nervous about whether I could solve the task and live up to Dinex expectations. He gave me a few days to think, and I decided to say yes. A decision I am really happy for today ", says Cansu with a big smile in her face.
We are proud.

"It is wonderful to meet so many talented employees in Dinex, who have been building their competence through several years of experience in Dinex or have brought it from competitors, customers and related industries around the world. Meeting some of them in connection with our talent program, where they tell proudly and with a great commitment about their work and how things can reach new heights in Dinex, makes me happy and at the same time proud ", says CEO Torben Dinesen and continues, "Through our academy activities we carry out trainings within many different subject areas, and even more will happen in the future both hosted by HQ, but also increasingly directly out of our many factories globally. I believe that our Global Talent program will continue to be a centrally managed effort, where the Top Management's participation is essential for making our support visible as well as to actively participate in the process, which is also about spotting the unique potential that one day is going to be brought into play".